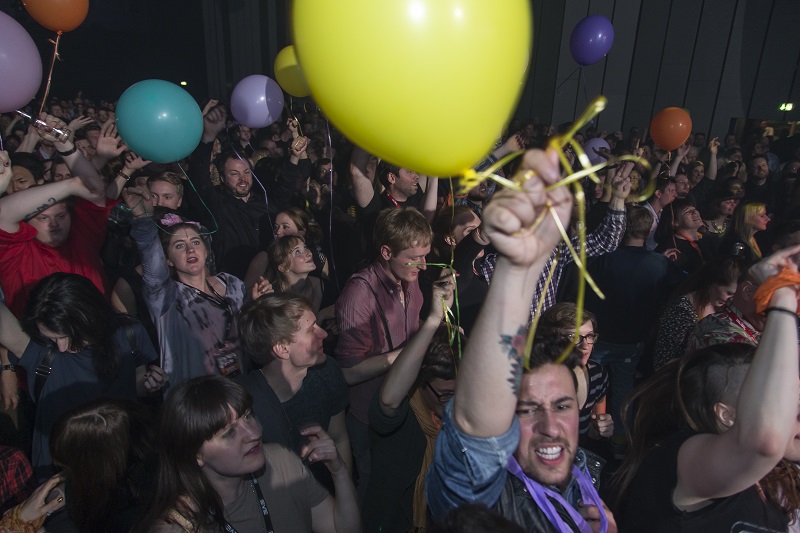 Pub crawl 2.0
This year´s pub crawl will have a new look. Instead of our usual spelunk around the 101 downtown area, we will be going on an expedition by bus into the more unknown regions of Reykjavik´s outskirts. We will start at Harpa, as usual, where you'll meet and join your DEV group. From Harpa, you'll hop on buses with your hands full of beer and brennivín and then visit three places that capsuleers have probably never charted before. Expect partying outside of a bus, on a bus and on the fringes of the wilderness! We will make sure everyone ends up in the same place for a grand final destination party, a safe traveling distance from our main venue Harpa.
Included in the price: DEV group, beer, brennivín, shot glass, bus ride, drink tokens and final destination party
Charity Dinner with CEO and Devs
Join EVE Fanfest attendees and developers for a special evening of interesting conversation and a wonderful dinner on the first evening of Fanfest.
This unique event will be extra special this year, as we make a final push with our grand support for Children's Hospital (Barnaspítali Hringsins), a division of the National University Hospital of Iceland in Reykjavík. Therefore, the event will be even more grand than before. Besides a spectacular 3-course dinner, drinks will also be included, and you will get both a unique item of memorabilia item as well as a special thank you document signed by the EVE devs and the CEO of CCP.
Be sure to grab your chance quickly to wine, dine and converse with CCP's CEO Hilmar Veigar Pétursson and the CCP developers.
Included: welcome drink, 3-course dinner, beer and wine, exclusive memorabilia and signed thank you document
Sisters of EVE tour
We invite players to bring their wives, husbands, boyfriends, girlfriends, or just friends, to accompany them on the trip to Iceland and participate in this excursion that takes place during the Friday of Fanfest.
Not only that, but Sisters of EVE pass holders are invited to join in at Fanfest on the Saturday, including the Party at the Top of the World!
This year we offer spouses the choice of TWO different travel options on the Friday. One will be more relaxed while the other will be more action packed.
RELAX
Are you a fan of goats? Game of Thrones? Geothermal energy? Or even just beer? We've got all of that planned for you on this trip!
You will start the day by boarding your bus at Harpa, and we will begin by driving to Háafell goat farm, where Jóhanna has been the leading goat farmer in Iceland for the past few decades, bringing back a goat species almost extinct. Here we will meet the goats – some of whom even starred in Game of Thrones – and Jóhanna will walk us around the farm, telling her story of how her love of goats came about. We will taste her homemade goat cheeses, get an introduction to her homemade cosmetics, in which she even uses some produce from the goats as well as the many other products made on the farm.
After spending some time with the goats (making some of you want to adopt one!), we will head to the brand new, natural geothermal bath resort, Krauma, located by Europe's most powerful hot spring. It provides 180 liters per second of 100°C hot water! Here you will be provided with a towel, but remember to bring your swimsuits!
After a relaxing time in Krauma, we will get back on the road, but before heading back to Reykjavík we will of course make one more stop! The family run, Steðji microbrewery provides Icelanders – and visitors – with a selection of innovative beers produced with everything from seaweed from Borgarfjörður to natural Icelandic strawberries and Hvalur Þorrabjór 1 & 2 – two of the most controversial beers in the world as they're brewed with milled whale bones and sheep dung-smoked whale testicles from a fin-whale! Here we will visit the brewery and of course, end with a tasting of their variety of beers before heading back to Reykjavík.
This tour takes approximately 8 hours. Lunch packs are included, please let us know if you have any dietary requirements. We can unfortunately not accomodate them all at the tastings, but we will take them into considerations in the lunch packs.
ACTION
Are you an adrenaline junkie? Need a little more speed and adventure in your day? Then this action-packed day is definitely for you!
We will pick-you up at Harpa and start by bringing you to the Buggy basecamp. A buggy tour is quite a thrill! You and your buggy buddy will feel the wonder of the pure air and spectacular views that make Iceland special – and all only a short trip from Reykjavik. It's safe, spectacular and about the most fun you can have with another person. Your buggy adventure begins with a pick up at Harpa and the short drive to base camp on an asphalt road before taking it all off-road. Next, you'll meet your buggy, and we'll give you all the safety instruction you need to have fun with confidence! After that, the adventure begins, as we head for the mountains and some truly breathtaking views.
After an hour long drive in the buggies, our blood pumping, we will head back to the base where we will have some games waiting for you while you gear down. From axe-throwing to a quick game of Bocchia, you will be sure to find something to your liking!
Of course, the trip is not over yet! From here, we will head to the skeet shooting range, where each person will be provided with 10 shots to try to hit those clay pigeons. Reckon you can hit them all after everything you've already experienced? Prove it!
This tour takes approx. 4 hours. Lunch is not included, so bring some snacks if you think you'll need them!